Centre for Teacher Training in Canada
The Program is Completely ONLINE

   No Taxes         Free Materials        Free Consultation     Low Tuition Fee      Possible Tax Deduction
  Program Overview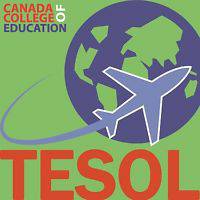 This Online Certification Program is designed for individuals who wish to pursue a career in Teaching English as a Second Language (ESL) to non-native English speakers. This program consists of 10 units of study that must be completed within six months. The program is structured through approximately 100 hours of online instructions and after the completion of all lesson assignments, students will have the opportunity to gain first-hand experience in a 20 hour teaching practicum.
Upon acceptance into the program, students will have direct access to their TESOL supervisor assigned by the CCE. Students will be provided all lesson assignment(s) and digital course components through direct e-mail. Students will be expected to purchase only the textbook (we will provide a link to purchase the textbook)
Entrance Requirements

All interested applicants must have completed their senior matriculation (Grade 12) in Canada, or completed an undergraduate degree from an English-speaking university. Non-native English speakers must show proof of English Proficiency (please contact for details). This must be submitted to Canada College of Education upon your application and enrollment submission. Applicants who are accepted by the Canada College of Education without a University degree may not qualify for TESL Canada Level 1 Instructor Certification, but still can have their certificate from CCE.

Language Proficiency
My English is very good, but what if I DO NOT have proof of my English language proficiency like (IELTS, TOEFL, or other)?
At CCE we can perform our own assessment of your language proficiency. You can register for the TESOL certificate program at CCE upon passing the assessment (you must request the assessment), however, if you apply for official certification from TESL Canada, at then you will need to demonstrate to TESL Canada that you satisfy the language proficiency requirement by presenting official and current results from one of the exams listed on the chart. The language assessment performed by CCE will NOT qualify as meeting this language requirement for TESL Canada.

Registration
Please ensure that you have completed the following steps before applying for the program:
Proof of Degree or Equivalency: You will need to provide us with proof of your qualifications (i.e., 1 copy of your diploma)
Proof of identity: Please have one copy of photo identification (Driver's license, Residency Card, Passport, Study permit, skill worker and … ) that is to be sent alongside your application
Proof of English proficiency (applies to non-native English speakers only)
Please visit: www.tesl.ca for more information about the entrance requirements.

Refund Policy
Since the TESOL Certification Program is offered completely online, students will not receive refunds of any partial manner once they have been accepted into the program. Likewise, if the student does not complete the program within 24 weeks (6 months) after they have been admitted into the program, the program will automatically be cancelled without any reimbursements. In such case, the student must register again and pay for the full program fees and start the program from the beginning.
Practicum Unit
All teacher trainees will have the option to teach at any recognized schools in Canada.  It is the student's responsibility to meet the job requirements of their selected institution.  Students who live outside of Canada may also register for Canada College of Education's TESOL Program, however the practicum must be completed in Canada.
Note: It is the sole responsibility of the student to find a school in their area for their Practicum (10 hours Observation + 10 hours Teaching) components.
Certification
Upon successful completion of the program, the trainee will receive a certificate of completion from CCE and it is recognized by TESL Canada. Then, if you like you can apply for Standard 1 TESL Certificate from TESL Canada (Verify it with TESL Canada TESL.ca).
TESOL Program Information
Price and Promotion 20% OFF – NO TAX

Program: TESOL Certificate of completion
Duration: 4 to 26 weeks (24 weeks Max)
Delivery  method: Completely ONLINE
Recognized:  By TESL Canada
www.tesl.ca

Method of Evaluation
Assignment #1     15%
Assignment #1     15%
Assignment #1     15%
Practicum              20%
Final Project          35%

Tuition Fee $750 Now in promotion: $599
Registration fee: $50
Tuition and Registration fees are non-refundable
Students must purchase their Textbook. The link to buy the Textbook will be provided upon registration.
Estimated book price = between $45 to $99
Certificate cost: Free

More information
What can I do with a TESOL Certificate?
There are various opportunities for you to put your TESOL skills and knowledge to use. You would be qualified to: teach ESL overseas, teach international students in a Canadian institute, tutor ESL students, or work for a government sponsored program for landed immigrants or newcomers to Canada. After gaining sufficient experience, you will be able to teach courses such as IELTS, CELPIP, TOEFL and other English courses.
What is duration of practicum?
Trainees are expected to complete the Standard 1 Certification Program within six months. Practicum consists of 10 hours of observation and 10 hours of teaching in an ESL class.
When do I receive my certificate?
Upon successful completion of all program requirements, students will receive a Certificate of Completion indicating that they have completed all of the requirements of the program. They will then be eligible to apply for the Standard 1 TESL Certificate from CCE and TESL Canada (check eligibility with tesl.ca).
I have completed all assignments and the final project but I did not do my practicum. Am I still able to receive a certificate?
Yes, you will qualify to receive a Certificate of Completion. However, it will indicate that the student has not completed the practicum part of the course.
I do not have any proof of language proficiency. Am I still able to register?
At CCE, we perform our own language assessment. However in order to receive a certificate from TESL Canada (separate from CCE's certificate), then you must meet their language requirements.
I am international student. Can I still apply for admission?
Yes. Visitor, tourist, international students etc. are eligible to apply for admission.
I am citizen of different country. Can I apply for admission?
Yes. You can obtain your certificate without a practicum or you may come to Canada for the practicum section of the certificate.
Can I complete my certificate in less than 6 months?
Yes. You can complete it as short as 4 weeks.
ENTRANCE REQUIREMENTS
Equivalent Admission Requirements
Academic standing from other provinces and other countries recognized by the College as equivalent to an Ontario High School diploma will be considered for admission. You may evaluate your document with the World Education Services (WES).
Generally, the standards are as follows:
A valid Secondary School Graduation Diploma at the General Level, or equivalent, for the following provinces: Alberta, British Columbia, Manitoba, New Brunswick, Newfoundland, Nova Scotia, Prince Edward Island, Quebec and Saskatchewan.
United States of America
Grade 12 (A minimum of 16 units of credit at the Secondary School level; at least four credits of which are in English).
All other applicants will be considered on an individual basis.
All applications are assessed by our Board of Admissions who are empowered to accept, defer or reject the admission of any applicant to a program. You will be advised of your acceptance by an official letter (or e-mail) from the Admissions Office.
For further inquiries please call: 416-926-0540